Here are some photos taken at my naming party at St-Ferriol on 5th September 2009. The weather was not as warm as it should have been so we lit some fires.
We started off with some cremant de Limoux to drink. Then I was presented to everyone in the great hall and we heard some poems and readings in English and French - reproduced below. Then we had some cocktails named after me (Berty's Bramble) invented by my Aunt Bonnie, followed later by a roast lamb dinner that we ate outside, accompanied by Stan on his new 'Cello. Later we listened to an Occitan singing group called La Mal Coiffée.
Here I am ready to get dressed, holding a beautifull silver tankard given to me by Anna-Marie.
And here I am at the party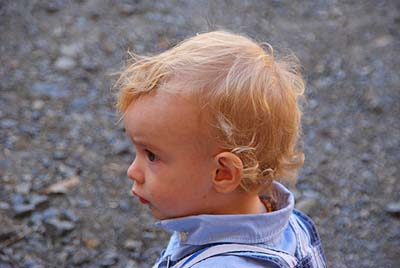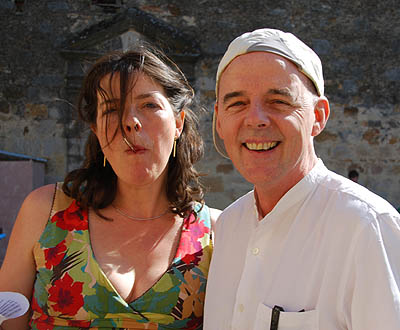 Jessie May, who is on tour in the Far East so could not be here, sent me this poem:
Poem for Guilhem from his guide mother Jessie:

May the strength of the wind and the light of the sun,
The softness of the rain and the mystery of the moon
Reach you and fill you.
May beauty delight you and happiness uplift you,
May wonder fulfil you and love surround you.
May your step be steady and your arm be strong,
May your heart be peaceful and your word be true.
May you seek to learn, may you learn to live,
May you live to love, and may you love - always.
My cousin Ella Benham read On Children by Kahlil Gibran
Your children are not your children.
They are the sons and daughters of Life's longing for itself.
They come through you but not from you,
And though they are with you yet they belong not to you.
You may give them your love but not your thoughts,
For they have their own thoughts.
You may house their bodies but not their souls,
For their souls dwell in the house of tomorrow,
which you cannot visit, not even in your dreams.
You may strive to be like them,
but seek not to make them like you.
For life goes not backward nor tarries with yesterday.
You are the bows from which your children
as living arrows are sent forth.
The archer sees the mark upon the path of the infinite,
and He bends you with His might
that His arrows may go swift and far.
Let our bending in the archer's hand be for gladness;
For even as He loves the arrow that flies,
so He loves also the bow that is stable.
Colin Moore read out a letter to me from Marcus Williamson
5 September 2009
Dear Guilhem
Although I'm not here today, I'm honoured and delighted to have been chosen by your parents, James and Sophie, to take the role of a "ungodparent", or shall we say "guardian", for you.
Together with his parents and other "guardians", I promise to help nurture your love for your family and friends and for all the people of this wonderful world into which you have been born; to encourage your intelligence, curiosity and passion for languages and knowledge of all kinds; to develop a questionning attitude towards authority; and, above all, to help you enjoy every moment of life's journey ahead...
With this in mind, I'd like to dedicate this, a favourite poem. It's by Charles Cros, a little-known French poet and inventor who was born in 1842 in Fabrezan, not far from here, in the Aude. He was one of the first "moderns", a man of the 19th century who was much admired by the surrealists of the 20th...
With love and best wishes for your ceremony today and for every day.
Marcus Williamson
Alan Cazals then read out Charles Cros's poem in French
LE HARENG SAUR
Il était un grand mur blanc - nu, nu, nu,
Contre le mur une échelle - haute, haute, haute,
Et, par terre, un hareng saur - sec, sec, sec.
Il vient, tenant dans ses mains - sales, sales, sales,
Un marteau lourd, un grand clou - pointu, pointu, pointu,
Un peloton de ficelle - gros, gros, gros.
Alors il monte à l'échelle - haute, haute, haute,
Et plante le clou pointu - toc, toc, toc,
Tout en haut du grand mur blanc - nu, nu, nu.
Il laisse aller le marteau - qui tombe, qui tombe, qui tombe,
Attache au clou la ficelle - longue, longue, longue,
Et, au bout, le hareng saur - sec, sec, sec.
Il redescend de l'échelle - haute, haute, haute,
L'emporte avec le marteau - lourd, lourd, lourd,
Et puis, il s'en va ailleurs, - loin, loin, loin.
Et, depuis, le hareng saur - sec, sec, sec,
Au bout de cette ficelle - longue, longue, longue,
Très lentement se balance - toujours, toujours, toujours.
J'ai composé cette histoire, - simple, simple, simple,
Pour mettre en fureur les gens - graves, graves, graves,
Et amuser les enfants - petits, petits, petits.
Here's an English translation
THE SMOKED HERRING
Once upon a time there was a big white wall — bare, bare, bare,
Against the wall there stood a ladder — high, high, high,
And on the ground a smoked herring — dry, dry, dry,
He comes, holding in his hands — dirty, dirty, dirty,
A heavy hammer and a big nail — sharp, sharp, sharp,
A ball of string — big, big, big,
Then he climbs the ladder — high, high, high,
And drives the sharp nail — tock, tock, tock,
Way up on the big white wall — bare, bare, bare,
He drops the hammer — down, down, down,
To the nail he fastens a string — long, long, long,
And, at the end, the smoked herring — dry, dry, dry,
He comes down the ladder — high, high, high,
He picks up the hammer — heavy, heavy, heavy,
And goes off somewhere — far, far, far,
And ever afterwards the smoked herring — dry, dry, dry,
At the end of that string — long, long, long,
Very slowly sways — forever and ever and ever.
I made up this story — silly, silly, silly,
To infuriate the squares — solemn, solemn, solemn,
And to amuse the children — little, little, little.
Papa read this poem that he had written for me:
A Poem to Guilhem

May you:
Give to the world more than you take from it in the course of your journey.
Use your senses to the full: see what others fail to see. Hear what is meant,
not only what is said.
Inspire others by your example. Bear your burdens and wear your learning
equally lightly on broad shoulders.
Learn the bramble paths of understanding and keep them free for others,
though you seem to walk alone.
Honour Nature and care for her children: near or far, they are your cousins.
Enjoy playing with pebbles on the seashore – and may such fun
lift you onto the shoulders of giants, even into the mansions of the gods.
March to your own tunes, and may they be troubadour tunes,
and happy tunes, and may they be many.
May you:
Bear true allegiance and let your word be worth more than the solemn oaths
of a thousand parfit knights.
Emulate the Flower of Chivalry. Aim to be his peer as well as his heir and his namesake.
Reach, if you need a sword, for one honed by Justice and tempered by Mercy.
Trust your heart. Speak your mind. Stand your ground. Fill the unforgiving minute.
Recognise abilities in others, without heed to their rags or their crowns. And know well
that which is worth more than rubies.
Ally yourself with Liberty and Toleration. Let your country be the world.
Never hesitate to test established certainties. Discover those built
on enduring foundations.
Dare to stand against the follies of your age, though they be many.
May you:
Remember that you are stardust, kin and heir to diamond realms:
the golden forge of Sol, the silver secrets of Selene.
Avoid Hubris and its eternal pursuers, and set Light high above all worldly Vanitas.
Make friends with all the Muses, and with Dryads and Nereids and, when you are older,
with other, carefully selected, Nymphs.
Offend not the Fates in tempting them. If one has spun you a strong thread,
so may her sister measure it with a long rod.
Nurture those who will in future times depend on you, and may they be many.
May you:
Meditate on philosophy; not on philosophers' stones.
Those stones are the stuff of barren deserts not of ocean seashores.
Cherish Wisdom for in so doing, you honour a loving mother.
Do Right. Question all. Do not fear to look any man in the eye.
Open your heart and your mind. Let them long remain as hale and pure as they are today.
Never regret the blue hills of childhood,
but let their air of contentment warm your heart all the days of your life.
Aim high, reach far, think deep, and follow Truth wherever she may lead.
Laugh at setbacks. Strive for the pleasure of striving. Dance in the rain as well as in the sun.
Dream long the happy coloured dreams of poets, my son. And may those dreams be many.
Recipie for Bertie's Bramble
40ml Gin
10ml freshly squeezed lemmon juice
10ml sugar syrup (one part water to one part white sugar)
5ml creme de Mure
garnish with a lemon twist (the zest of a lemon)
and a slice of lime.
Shake with crushed ice.
and here are La Mal Coiffée performing in the Great Hall in the evening - after I had gone to bed
Photos of me from 7 to 8 years
Photos of me from 6 to 7 years
Photos of me from 5 to 6 years
Photos of me from 4 to 5 years
Photos of me from 3 to 4 years
Photos of me from 2 to 3 years
Photos of me from 18 to 24 Months
Photos of me from 12 to 18 Months
Photos of me from 9 to 12 Months
Photos of me from 6 to 9 Months
Photos of me from 3 to 6 Months
Photos of me from birth to 3 Months
You can e-mail me at guilhemmcdonald@gmail.com